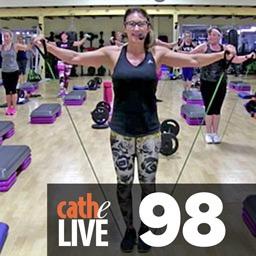 098 You Can Do Anything for a Minute $9.97
You are purchasing a digital download, not a physical DVD.
Arrrre youuu readyyyyy??? One minute of non stop drills!!!! Experience a wide variety of movement, exercises and equipment. The order is random meaning there is no followed pattern. The only guarantee is that you'll play hard, sweat hard and crush calories!!!
Full sized step with two risers per side; Barbell with two big plates on each side (about 45 lbs); Various weighted dumbbells 5's, 8's,10's; Medium tension resistance tubing; Firewalker loop; Fitness Mat
50 minutes
*Most Cathe Live download files are between 1 and 3 gigabytes each. Make sure you have enough room on your storage device. **Cathe Live downloads don't contain chapters or premixes. All sales are final.