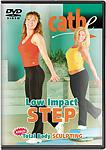 Total Body Sculpting Total Body Sculpting Fitness Video Download $8.97
You are purchasing a digital download, not a physical DVD.
Length: 28 Minutes
File Size: 389 MB
Description:
This 30 minute, beginner to intermediate workout, shapes and tones your muscles while burning fat and calories. The workout features a stability ball and 3 pound hand weights. Be sure to increase your weight selection when the exercises become too easy. For best results, it is recommended that you do this total body workout two times per week.
Equipment Needed:
You will  need  a stability ball and light dumbbells to do this workout.