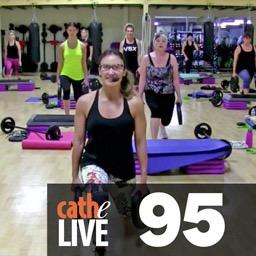 095 Total Body Barbell & Bands $9.97
You are purchasing a digital download, not a physical DVD.
Get ready to work your body from head to toe with a variety of rep ranges & equipment to shock your muscles. Develop lean muscle mass & burn loads of calories!!!
A weighted barbell (with the ability to hold a small, medium & large size plate on each side… or various weight increments you're comfortable using on your barbell); A full sized step (to be used ONLY AS A WEIGHT BENCH …no cardio stepping).; A medium tension resistance tube; A medium tension fitness loop; A fitness mat
73 minutes
*Most Cathe Live download files are between 1 and 3 gigabytes each. Make sure you have enough room on your storage device. **Cathe Live downloads don't contain chapters or premixes. All sales are final.