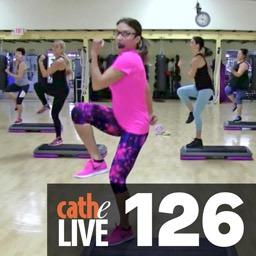 126 Timesaver Step Grooves $9.97
You are purchasing a digital download, not a physical DVD.
Are you in a hurry but still hoping to get your step sweat on? Well you're in luck because this Thursday, Nov 17th at 9:15am EST we will be doing "Timesaver Step Grooves" live. Hurry and grab your blue suede shoes cuz Elvis is in the house!!! Yup, that's right, along with "the Elvis" you'll be doing mambo's, peg leg pivots, step sweeps and even strike a pose! So double knot your laces and let's get right to it!
A full-sized step with either 6 or 8 inch risers underneath
36 minutes
*Most Cathe Live download files are between 1 and 3 gigabytes each. Make sure you have enough room on your storage device. **Cathe Live downloads don't contain chapters or premixes. All sales are final.