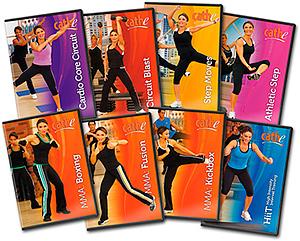 STS Shock Cardio Discount Bundle $119.97
You are purchasing a digital download, not a physical DVD.
STS Shock Cardio features 11 different intense fat blasting cardio routines that have also been designed by Cathe to be very time efficient to fit your busy schedule.
All 11 Shock cardio workouts have been designed to be used with Cathe's STS strength workouts or as individual standalone cardio workouts. In keeping with the philosophy of always "shocking" your system, Shock Cardio offers a wide variety of different workout types, lengths, and intensities. All of the workouts in this series are under 55 minutes and several are only around 30 minutes in length.
The 11 Shock Cardio workouts are divided into 4 main categories: HiiT, MMA, Step and Circuit. When combined with the STS strength workouts and online tools, you have the most advanced comprehensive home fitness training system on the market today that will not only help to make fitness a lifestyle, but will you give you the results you've been looking for.
Shock Cardio is a strategy that has always been promoted by Cathe as the best way to avoid plateaus, overuse injuries, and mental fatigue. Throughout her 26 year fitness career, Cathe has found that continually shocking your body with different types of cardio workouts that vary in style, intensity, and duration will produce the best results over the long term because your body will constantly be challenged in new and different ways.
Just as the strength workouts in STS utilize the principle of Muscle Confusion, Shock Cardio is used to mix up your cardio workouts to improve your aerobic and anaerobic capacity. This will also help to maximize your calories burned and fat loss.
This bundle does not include Travel Fit.