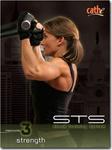 STS – Disk #38 – Meso #3 – Bonus Squat Rack Workout Download $9.97
You are purchasing a digital download, not a physical DVD.
Length: 61 Minutes
File Size: 850 MB
Description:
You will be doing the exact same exercises as the previous week with this workout, but since this is week number two, Squat Rack Legs, you need to increase your weights by 5% and decrease your reps to seven for every set and each exercise. And remember: as long as you use the online Workout Manager, your correct weights will automatically be calculated for you.
Equipment Needed:
a squat rack or weighted vest, barbell, barbell pad