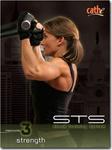 STS – Disk #35 – Meso #3 – Plyo Legs Workout Download $9.97
You are purchasing a digital download, not a physical DVD.
Length: 49 Minutes
File Size: 681 MB
Description:
This is the last plyo leg workout in this mesocycle and the last leg workout in the STS program.  Make any adjustments to your weights from week #3 if needed; otherwise, keep your weights at 70% of your 1RM.
Equipment Needed:
dumbbells, band, step, chair, paper plate