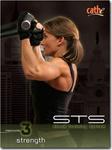 STS – Disk #29 – Meso #3 – Plyo Legs Workout Download $9.97
You are purchasing a digital download, not a physical DVD.
Length: 50 Minutes
File Size: 762 MB
Description:
You should keep your weights at 70% of your 1RM again this week, but feel free to make any adjustments to your weights from last week if needed. About half of the exercises in this workout will be new to you while the other half will be repeats from week one.
Equipment Needed:
dumbbells, band, step, chair, paper plate