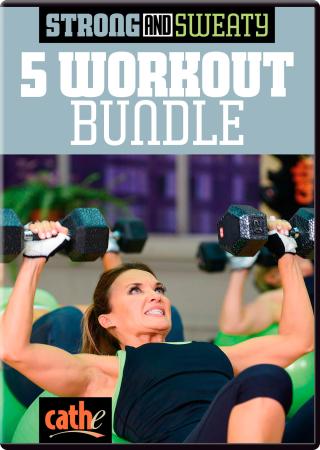 Strong and Sweaty 5 Workout Discount Bundle $59.97
You are purchasing a digital download, not a physical DVD.
Get ready to get Strong and Sweaty! This advanced series is packed with different training methods to shock and challenge your muscles while also providing the cardio factor needed for a complete, well-rounded routine. The workouts in this series will challenge your entire body and will also put your physical endurance to the test! The varied equipment, rep patterns and techniques will ensure that maximum calories and body fat are torched while we also focus on building and shaping lean muscle mass. An added ab bonus and many premixes are included to provide even more workout options as you progress through the series! Grab your weights and your determination and let's get started!
About the Strong and Sweaty 5 Workout Series videos
Boot Camp
You can do anything for a minute! I've said it before and I'll say it again: You can do anything for a minute! Get ready to breathe heavy as we hit round after round of intense cardio and strength movements. Each of the six rounds consists of one minute of the following components: cardio, upper body, lower body and metabolic segments. Variation in equipment and exercise selection will give this format a fresh new twist that will leave no muscle untouched and no calorie uncrushed!
Cardio Slam
Looking to get a solid, sweaty, high-intensity cardio segment in less than an hour? Then this workout is for you! Prepare yourself for an intense mix of high impact and low impact blasts both on and off the step. In this workout you'll transition from floor cardio to mat cardio to step cardio with a mix of lightly weighted exercises throughout. A mix of new exciting movements as well as some old favorites will keep you moving and breathing! Have your water—or perhaps even two—handy. It's time to sweat and slam!
PHA Training
There's no time for downtime and in this workout we set out to prove it! In PHA Training you'll alternate from lower body to upper body with very short rest periods between exercises. The goal is to maximize blood flow between the upper and lower body while the shortened rest periods keep your heart rate up for cardiovascular and fat-burning benefits! In this workout you'll do two rounds of six different upper and lower body exercises with each round being repeated three times. Every muscle group gets its chance to push hard, recover and then push hard again. The results will speak for themselves!
Ramped Up Upper Body
It's time to chisel some muscles! This workout will utilize both heavy and lighter weights with varied rep patterns to keep your muscles confused and working at maximum capacity. By combining the best of the two techniques your muscles will feel challenged even when it's time for lighter weights. We will also add in some resistance tubing at the end of some of the rounds for an added bonus burn! In this workout we will stay focused on one particular upper body muscle group to totally fatigue it before moving to the next. Let's ramp up the reps, ramp up the burn and ramp up your results!
Total Body Giant Sets
This workout will utilize giant sets to fatigue every muscle group while rep pattern and weight variations keep your heart pumping and your body firing! Each of the six giant sets in this workout will focus on a particular set of muscles and will push them to failure before moving on to the next combination of exercises. Giant sets are an amazing technique to add variation to your workout and also keep your muscles primed for continuous results. Roll up your sleeves and get ready to work hard because we're about to show those giant sets who's boss!
Free Online Users Guide
An online user guide with several rotations and complete workout instructions can be downloaded as a PDF or viewed on your computer. Rotations will also include our QuickSelect for OnDemand users which will automatically and instantly launch your OnDemand videos.
The Strong and Sweaty Series Also Includes This Bonus Workout
Bonus Abs