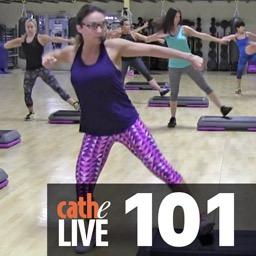 101 Step & Pump $9.97
You are purchasing a digital download, not a physical DVD.
Get Ready, Get Set….Step! This workout is all about step. A little step choreography finished off with a few step blasts for cardio, then moving onto step with weights to shape and strengthen the legs and upper body. A complete step package!!!
A full sized step with 2 risers under each side. After cardio segment, add another riser under each side for weight segment.; Various weighted dumbbells ranging from 8 to 15 pounds.; A fitness mat
59 minutes
*Most Cathe Live download files are between 1 and 3 gigabytes each. Make sure you have enough room on your storage device. **Cathe Live downloads don't contain chapters or premixes. All sales are final.