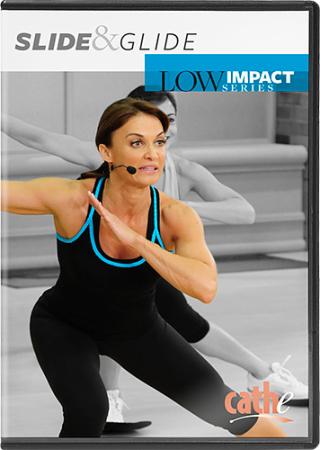 Slide N Glide Exercise Download $19.97
You are purchasing a digital download, not a physical DVD.
Length:
File Size:
Description:
Get ready cuz were gonna Slide and Glide into all out , low impact, high intensity action. Thats right, this workout simply never slows down.
After a solid 20 minute super intense, low impact, cardio slide and glide segment, youll finish off with a Slide and Glide total body workout. And guess what? Youll do all of this with nothing but your Slide and Glide discs, a Firewalker band and a mat. Think its impossible for it to hurt so good? I invite you to join us and see for yourself!
Now, before you get started I would like to go over a few things you need to know about using your Fitness by Cathe Slide and Glide discs.
First, make sure to select the right disc set up for your type of flooring. The normal Fitness by Cathe orange discs work best on carpeted floors and these same orange discs covered in the included black fabric, are designed for wooden and most vinyl floors. So go ahead and experiment to see which disc arrangement works best for your type of flooring.
Next, you need to practice using your Fitness by Cathe discs- most especially in the standing position- before attempting any of these workouts so that you will be familiar with how to safely use them for each exercise.
Always make sure to place the ball of each foot in the middle of your disc with your heel hanging over the edge. When your heel is in the down position it assists you in your push off. Then as you glide, slightly lift your heel to free up your movement. Always remember to place your heel down on the floor to stop any sliding exercise. This heel down position will act as your brake and stop any sliding movement for better stability and control.
The total time of Slide N Glide is 52 min ( Warm-up 4:49, Cardio Standing Slide 21:22, Seated and floor slide 20:34, Stretch 5:04)
* Slide N Glide discs sold separately