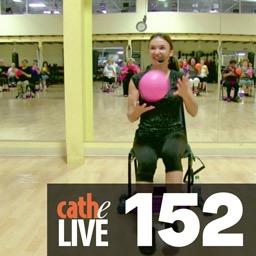 152 Senior Fit 2 $9.97
You are purchasing a digital download, not a physical DVD.
Senior Fit #2 is class designed specifically for our senior Cathletes. Participants that take this class range in age from 55 to over 90, showing that fitness truly is important for everyone no matter what their age. This class will help you to improve the quality of your life by increasing your muscular strength and endurance, range of motion, functional movements, balance and flexibility. Way too often seniors rely on prescriptions and doctors for their ailments, when sometimes the answer and remedy is just a little exercise. Though fitness is important for everyone, it could perhaps benefit seniors the most improving the quality of their daily lives and reducing hospital visits. Our senior fitness program is regarded as one of the best in the country and we thought we would broadcast another senior class once again in hopes that it will encourage other seniors to get started on their own exercise program.
A chair; A medium resistance band; 5 lb. dummbells; an inflated non-weighted fitness ball
57 minutes
*Most Cathe Live download files are between 1 and 3 gigabytes each. Make sure you have enough room on your storage device. **Cathe Live downloads don't contain chapters or premixes. All sales are final.