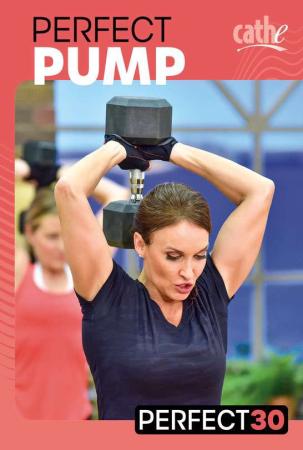 Perfect30 Perfect Pump $19.97
You are purchasing a digital download, not a physical DVD.
Perfect Pump contains two workouts:
Upper Body
Get ready to get heavy! This upper body routine builds a solid muscle burn with no huge time commitment. Each body part is hit with a series of heavy and lighter exercises. This workout moves! Tightening up on those rest periods ensures that your arms will be shaking by the time we're done!
Lower Body
This workout hits all angles of the legs and glutes with a mix of heavy and lighter weights. It will keep you breathing heavy, and you'll feel those muscles working hard the entire time! We will move from exercise to exercise to totally toast your lower body, and you will surely be feeling it the next day!
Upper Body Details
Warm Up – 4:00
Main Program – 25:20
Stretch – 1:23
Total – 30:43
Lower Body Details
Warm Up – 5:07
Main Program – 23:19
Stretch – 2:22
Total – 30:48
This workout also includes the following bonuses:
Upper Body Bonus – 4:52
Lower Body Bonus – 7:39
Core Bonus – 9:17
Extended Stretch Bonus – 8:17