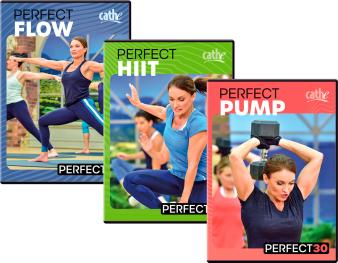 Perfect30 3 Workout Bundle $49.97
You are purchasing a digital download, not a physical DVD.
Perfect30 is an advanced three workout/six exercise series that will be a perfect fit for your fitness schedule when you're tight on time but you still want a solid, intense workout! Each workout in this series will contain two shorter 30-minute workouts which will focus on the main elements necessary for a well-balanced fitness routine: strength conditioning; cardio endurance; and balance/flexibility. Each workout in this series can be used as a stand-alone exercise routine or all three can be used in conjunction with one another for your own perfect workout. The routines will be time-efficient. But don't let that fool you! We'll be sweating and burning the whole time!
Perfect Flow contains two workouts:
Yoga Strength & Flexibility
Many fitness-minded people pay close attention to their cardio and strength goals, but pay too little attention to restoring length and flexibility to their hard-worked muscles and joints. This active yoga-based workout will take you through strength, flexibility, and balance challenges for the entire body. This is by no means a simple stretch workout! We will be working hard, and you will surely break a sweat!
Mobility Basics
Mobility training is the ability to move your joint actively through its range of motion. It incorporates flexibility and strength and is a key component in assisting you in your strength training and cardio workouts. As we age, our muscles get stiffer and our joints become less flexible, which can lead to muscle imbalances. This mobility basics workout will help reduce muscle imbalances and reduce the risk of injuries by encouraging you to move your joints through a full range of motion.
Yoga Strength & Flexibility Details
Warm Up – 4:36
Main Program – 27:18
Total – 31:54
Mobility Basics Details
This workout also includes the following bonus:
Perfect HIIT contains two workouts:
High Impact HIIT
This intense, high impact routine will challenge your speed and stamina as we jump, jack, and sweat our way through new and exciting HIIT drills. There's no time to waste and no equipment required, so let's get in, get serious and get that heart pumping!
Low Impact HIIT
This solid cardio, low impact routine will take you through a series of tough cardio blasts and agility drills to keep your heart pumping while remaining easy on your joints. Get ready to burn some serious calories in just 30 minutes! This workout requires no equipment, so push play and get busy!
High Impact HIIT Details
Warm Up – 4:43
Main Program – 23:50
Stretch – 2:16
Total – 30:49
Low Impact HIIT Details
Warm Up – 5:14
Main Program – 22:33
Stretch – 3:04
Total – 30:51
This workout also includes the following bonuses:
Pyramid HIIT Bonus – 12:01
Extended Stretch Bonus – 8:17
Perfect Pump contains two workouts:
Upper Body
Get ready to get heavy! This upper body routine builds a solid muscle burn with no huge time commitment. Each body part is hit with a series of heavy and lighter exercises. This workout moves! Tightening up on those rest periods ensures that your arms will be shaking by the time we're done!
Lower Body
This workout hits all angles of the legs and glutes with a mix of heavy and lighter weights. It will keep you breathing heavy, and you'll feel those muscles working hard the entire time! We will move from exercise to exercise to totally toast your lower body, and you will surely be feeling it the next day!
Upper Body Details
Warm Up – 4:00
Main Program – 25:20
Stretch – 1:23
Total – 30:43
Lower Body Details
Warm Up – 5:07
Main Program – 23:19
Stretch – 2:22
Total – 30:48
This workout also includes the following bonuses:
Upper Body Bonus – 4:52
Lower Body Bonus – 7:39
Core Bonus – 9:17
Extended Stretch Bonus – 8:17