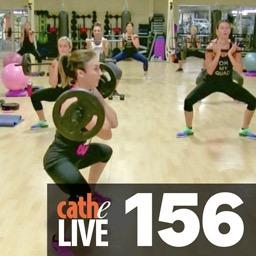 156 Oh My Quad $9.97
You are purchasing a digital download, not a physical DVD.
This high intensity leg workout keeps the heart rate high, the lower body challenged and the metabolism fired up! Expect to work hard and sweat hard as you move quickly from leg exercise to leg exercise.
A set of 10, 12 & 15 pound dumbbells; A paper plate or gliding device; A stability ball; A barbell that will range from 25 to 45 pounds (we'll be using a 10 pound plate on each side to start with & later in the program use two 10 pound plates on each side); A fitness mat
54 minutes
*Most Cathe Live download files are between 1 and 3 gigabytes each. Make sure you have enough room on your storage device. **Cathe Live downloads don't contain chapters or premixes. All sales are final.