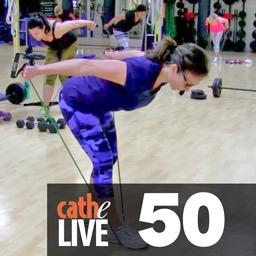 050 Muscle Max (with No Step) $9.97
You are purchasing a digital download, not a physical DVD.
Solid Total Body Sculpting …no cardio included. Get Stronger, Get Shapelier …Get Ready!!!!!
"A barbell plus 2 big plates (totaling 10 or 11 pounds each); 2 medium plates (totaling 5 or 6 pounds each); and 2 small plates (totaling 2 or 3 pounds each);
Various weighted dumbbells from 3 to 15 pounds)…heavier if you prefer; Resistance Tube (medium tension); Fitness Mat"
54 minutes
*Most Cathe Live download files are between 1 and 3 gigabytes each. Make sure you have enough room on your storage device. **Cathe Live downloads don't contain chapters or premixes. All sales are final.