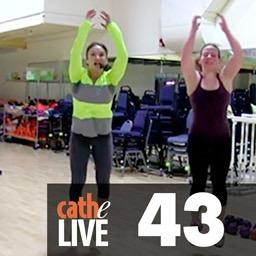 043 Metabolic Conditioning $9.97
You are purchasing a digital download, not a physical DVD.
In this workout you will be doing "Metabolic Conditioning" Live.Metabolic conditioning workouts are high intensity circuit-type workouts that often involve challenging total body, compound exercises to enhance the calories burned during your workout…and even for several hours after it (the Afterburn effect).
A set of light, medium & heavy dumbbells. I will be using 10's, 12's, & 15's, with a set of 8's handy in case the 10's start to get too heavy.; You'll also need a fitness mat.
42 minutes
*Most Cathe Live download files are between 1 and 3 gigabytes each. Make sure you have enough room on your storage device. **Cathe Live downloads don't contain chapters or premixes. All sales are final.