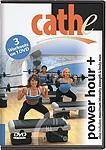 Maximum Intensity Strength Workout Video Download $6.97
You are purchasing a digital download, not a physical DVD.
Length: 75 Minutes
File Size: 1010 MB
Description:
Maximum Intensity Strength is a 75 minute advanced muscular conditioning video.
This workout requires the use of a barbell (15 lbs. to 40 lbs.), dumbbells (5 lbs. to 20 lbs.) and a 8 to 10 inch Step. Cathe has structured the workout to target all the major muscle groups beginning with the larger muscle groups first. Each muscle group is worked to exhaustion before moving on to the next.
This super challenging workout concludes with an intense 10 minute abdominal routine. This workout should be alternated with Maximum Intensity Cardio (or any of Catheís step aerobic videos) for a complete and balanced workout.
Maximum Intensity Strength Format:
Warm-up with step: 6.5 min., Buttocks/Legs: 18.5 min, Chest: 8 min., Back: 7.5 min., Shoulders: 7 min., Biceps: 6 min., Triceps: 7.5min., Abdominals: 10 min., Stretch: 3 min.
Equipment Needed:
This video requires a step, 10 to 17 inch stool, 4′ to 5′ barbell and various dumbbells.