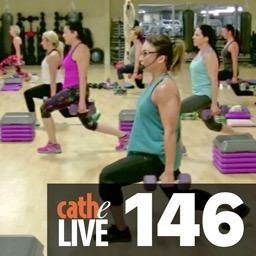 146 Lower Body Bootcamp $9.97
You are purchasing a digital download, not a physical DVD.
Lower Body Bootcamp is the partner workout to last week's Upper Body Bootcamp. Get ready to move quickly from exercise to exercise with a range of light to heavy weight. Here is your pattern: three leg exercises plus one core. We will have a few rounds like this with each round having different leg exercises.
A High Step (with three or 4 risers underneath); Various weighted dumbbells ranging from light to heavy (3's up through 20's or whatever weight you use for squats and deadlifts); A fitness mat
58 minutes
*Most Cathe Live download files are between 1 and 3 gigabytes each. Make sure you have enough room on your storage device. **Cathe Live downloads don't contain chapters or premixes. All sales are final.