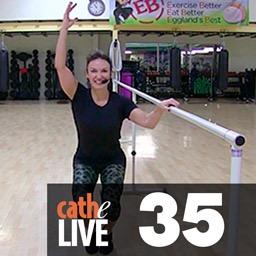 035 Long and Strong Legs $9.97
You are purchasing a digital download, not a physical DVD.
Cathe did this workout solo because of a medical emergency with one of our camera men ( cameraman is doing fine now) that resulted in us having to cancel the filming of the normal class. We will be back next week with our normal class. Get ready to shape and define powerful lean long legs in a matter of minutes. Class will start out with varied weight work and finish out with barre work (as in ballet barre).
A set of 10 lb handweights; A set of 15 lb handweights; A ballet barre (or chair as a substitute)
103 minutes
*Most Cathe Live download files are between 1 and 3 gigabytes each. Make sure you have enough room on your storage device. **Cathe Live downloads don't contain chapters or premixes. All sales are final.