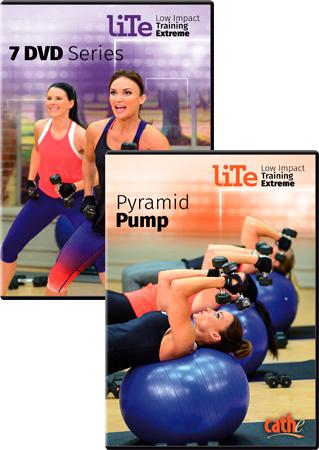 LITE Series 8 Workout Bundle (Includes Pyramid Pump) $99.00
You are purchasing a digital download, not a physical DVD.
What is "LITE"? Low Impact Training Extreme!
It's Cathe's new low impact series focused on the needs of the intermediate exerciser. Don't let the name of this series fool you. It may be LITE on impact and LITE on those joints, but the LITE Series is anything but LITE on the challenge! This series will not only help intermediate exercises reach their full potential, but it will also provide a solid challenge for the advanced exerciser through ramped up bonus segments and higher weight options. No matter your current fitness level, the LITE series will fit perfectly into your routine.
So many Cathletes requested a second intermediate series after Cathe's first series, ICE, was released in 2015. LITE, ICE's sister series, takes intermediate even further with new routines, new bonuses and a fresh look at intermediate exercise.
LITE on Impact. LITE on your joints. Anything but LITE on Challenge!
The LITE series offers not only 7 new workout routines, but also includes:
Bonus Workouts over 2 1/2 hours of bonus workouts (see details below)
Shorter Workouts all of the 7 main LITE workouts are under 45 min. Shorter and longer Premix options are available.
Calorie Crush cardio bonuses for an added higher impact intensity burst on days when you want to take your workout to the next level.
Pyramid Pump lifting bonuses to challenge your muscles utilizing the pyramid method of training.
6 Pack Abs Two bonus Ab workouts to keep that core tight and toned.
LITE Extended Stretches bonuses are two extended stretches to help us lengthen and relax hard worked muscles.
About the LITE Low Impact Workouts
Body Weight & Bands
You don't always need weights for a great muscle routine and this workout will prove it! Body Weight & Bands requires nothing more than your body weight and fitness bands making it a great low impact, travel-friendly routine that will challenge your body through varying exercises and rep patterns using your own weight and rubber resistance.
Cardio Party
Who's ready to party?! This high energy routine will mix multiple cardio methods to leave you worked and breathless, but you'll be having so much fun, you may not even notice! Get ready to "party hard" while all low impact movement keeps it easy on your joints!
Metabolic Blast
This total body metabolic training workout will hit all muscle groups through utilization of compound lifting methods and grounded blast movements to fire up muscles and your heart rate! This type of training provides both strength and cardio benefits in a short amount of time.
PHA 2
This workout moves! We will waste no time as we alternate between lower and upper body exercises to keep our bodies firing at optimal levels without the need for long rest periods. This method of training allows for maximum muscle recruitment and results that will speak for themselves!
Rev'd Up Rumble
Get ready to find your fierce! This charged up kickboxing routine will have you digging deep and reaching high for those goals! Cardio punches, cardio kicks, combos and blasts will be mixed throughout the workout, so get yourself rumble-ready!
Strong Body Stacked Sets: Lower
It's time to shape up those legs! This all lower body weight routine will torch your legs and glutes utilizing giant sets! There will be little rest within each giant set to raise that heart rate and burn some serious calories.
Strong Body Stacked Sets: Upper
Time to get your muscles pumping! This all upper body weight routine will utilize giant sets to incorporate a whole lot of work into a short amount of time! Layer on exercises, reps and sets to elevate your metabolic rate and totally fatigue your muscles!
Pyramid Pump
This optional bonus full body workout utilizes the full pyramid system to maximize your exercise potential in the shortest amount of time possible. This workout is available as short individual muscle group "Pyramid Pump Bonuses" featured with all of the other LITE workouts. This bonus has all of the muscle groups combined into a single workout.
FREE Online User's Guide
An online user's guide with several rotations and complete workout instructions will be available to download as a PDF or viewed on your computer.
The LITE Series also includes these Bonus Workouts
Body Weight & Bands Calorie Crush
Cardio Party Calorie Crush
Metabolic Blast Calorie Crush
Rev'd Up Rumble Calorie Crush
Bonus Six Pack Abs #1
Bonus Six Pack Abs #2
Extended Stretch #1
Extended Stretch #2
Pyramid Pump Back
Pyramid Pump Biceps
Pyramid Pump Chest
Pyramid Pump Lower Body
Pyramid Pump Shoulders
Pyramid Pump Triceps