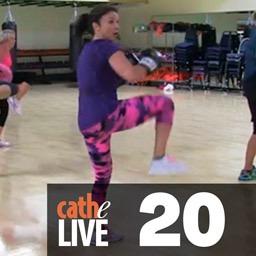 020 Kickbox & Barre $9.97
You are purchasing a digital download, not a physical DVD.
The class starts with cardio kickboxing and finishes with barre work and is our 20th Cathe Live production. There is also a 5 minute heavy bag segment in the middle of the workout.
Boxing gloves; chair (for your barre exercises).
55 minutes
*Most Cathe Live download files are between 1 and 3 gigabytes each. Make sure you have enough room on your storage device. **Cathe Live downloads don't contain chapters or premixes. All sales are final.