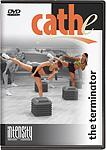 Intensity Series: Terminator – Imax Xtreme Exercise Video Download $9.97
You are purchasing a digital download, not a physical DVD.
Length: 76 Minutes
File Size: 1030 MB
Description:
The Terminator was made by taking compilations from our three Intensity series DVDs and combining them in a new and unique way. As you might guess from the names, these workouts are designed to challenge even an advanced exerciser.
Imax Xtreme was made by combining cardio and compond weights from Cardio & Weights followed by two Imax 2 Intervals in a row. This pattern is repeated four times. The other two Terminator can be purchsed separately.
Equipment Needed:
step, a 14 inch tall bench (High Step), a barbell, various weighted dumbbells, and a medicine ball (we will use an 8 pound medicine ball)