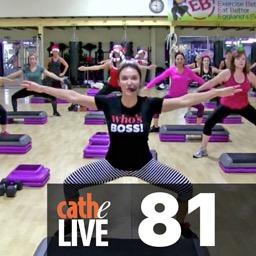 081 Icy Boot Camp $9.97
You are purchasing a digital download, not a physical DVD.
Inspired by the ICE Boot Camp workout, expect to do a similar format of cardio step blasts followed by lower body weight work & then upper body weight work. No core segments will be in this particular work out. DONT FORGET YOUR HO HO HOLIDAY HATS!
Various Weighted Dumbbells ranging from 5 to 15 pounds.; A step with two risers under each side (have 2 additional risers ready to go to raise the step height later in the workout).; A fitness mat
48 minutes
*Most Cathe Live download files are between 1 and 3 gigabytes each. Make sure you have enough room on your storage device. **Cathe Live downloads don't contain chapters or premixes. All sales are final.