How to Watch Your Cathe Downloads Using Apple TV2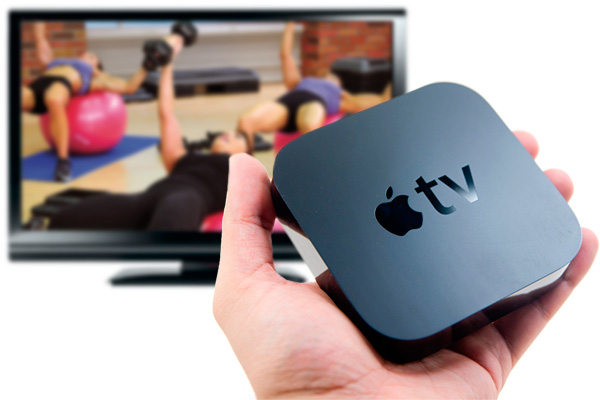 For the CatheDownload exercise video and Apple product user, there is one piece of optional equipment that is essential to your workout viewing pleasure: Apple TV2. Apple's minuscule $99 black box can be your gateway to exercising with Cathe on your big screen television from your computer or iOS device with very little set-up effort involved. Using the current version of iTunes on your Mac or Windows computer, you can send video wirelessly through your home's wifi network (or wired through an Ethernet network) to the Apple TV, which can then display your workouts at full-resolution on your television. Any CatheDownload video that resides in your iTunes library can be shown this way and can be controlled by the Apple TV's remote control, which means that your computer does not have to be physically located anywhere near your television. And this also works for showing videos from devices running Apple iOS 4.2 or newer, which includes all current versions of the iPod touch, iPhone, and iPad. So you can have your iOS device charging in another room and at the same time be watching your CatheDownload videos from it on your television.
When you take a look at the cost of a cable to connect, for example, your iPhone to your television, it requires a $40 investment. Spending an additional $59 (plus the cost of an HDMI cable) on the Apple TV2 enables you to not only connect that device to your TV, but also any computer or current and future iOS device, plus gives you some other great features that are already built into the Apple TV. These include watching or listening to any previous purchases you have made through iTunes, renting or purchasing TV shows or movies, watching podcasts, access to your Netflix account, YouTube, Flickr, Internet Radio, WSJ News, live sports, plus viewing any photos you have stored on Apple's Photo Stream service from your iOS devices. The Apple TV easily becomes well worth the additional investment.
Now for a couple of minor "gotchas:" First, the Apple TV2 requires that your television connect to it through an HDMI connection. While most newer televisions have this interface, if you have an older TV that doesn't, you are out of luck. And second, the Apple TV2 has no on-board storage. While not a deal-breaker, what this means is that you must always have your computer or iOS device turned on and accessible in order to view your CatheDownload workouts. That's about it on the negatives!
So what do you need to make an Apple TV2 work? Well, the bare minimum is an HDMI-compatible TV, a computer (with iTunes installed) or iOS 4.2 or greater device (iPod/iPhone/iPad), an iTunes account, and a wireless network in your home (or wired if you will only be using a computer). If you are already downloading and using CatheDownload workouts on your computer or iPhone, you probably have all of the necessary components.
When you get back from your trip to the Apple Store with your diminutive box in-hand (oh, and don't forget to pick up an HDMI cable, too!) Simply follow Apple's excellently simple printed manual and on-screen directions included with your shiny new 4"x4"x1" black box, and you will be up and ready to exercise in no time. However, one small step that I'd like to expand on is how to get your Apple TV set up so that you can stream your videos from your computer or iOS device. You'll first need to go to the "Settings" menu on the Apple TV and make sure that "AirPlay" is set to be enabled (this is Apple's technology for streaming your videos and music to the Apple TV). Next, go to your iOS device and start a CatheDownload video playing as you normally would. You should see an icon in the lower right corner of the controls that looks like a rectangle with an arrow cutting into it at the bottom. This is the AirPlay icon and where you'll need to tap to choose your Apple TV from the list. Once you choose it, the video should begin playing on your television. You can control playback either from your iOS device's controls or the remote that came with your Apple TV (which has the benefit of allowing you to place your iOS device out of the room and plug it in to keep it charged). You can also play your CatheDownload workout videos from iTunes in the same manner by clicking on the AirPlay icon in the bottom right corner of the iTunes window. Again, you can use your Apple TV remote to control playback, skip chapters, pause, etc., of your workout.
After using your Apple TV to view your CatheDownloads you will wonder how you ever did it before. And don't forget, you can also view your own "premixes" that you have created in the Workout Blender in the same way!
Here is a link to Apple's website so that you can check it out the Apple TV2: http://www.apple.com/appletv/