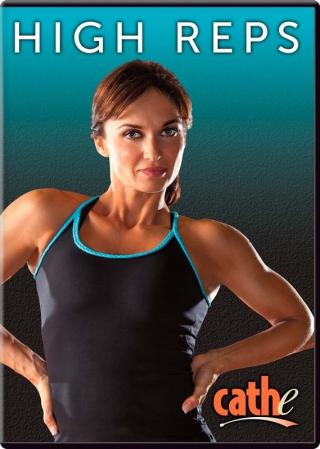 3B-wp_MD4I4
High Reps Exercise Download $19.97
You are purchasing a digital download, not a physical DVD.
Length: 1:05:39

File Size: 907.8MB
Description:
High Reps is an intense 65 min long total body, muscular endurance workout loaded with energy, variety and of course, high reps. It features our customized rockin' soundtrack that'll make your muscles lift, pull and stretch while they reach for that last rep. Do this workout one or two times per week and enjoy the benefits of improved muscular endurance, a revved up metabolism, increased bone density, better muscle tone and feel energized all day long.
The format of this workout is simple: You will be doing ten songs. Each song is choreographed to music and concentrates on exhausting one muscle group at a time through the use of light-to-moderate weighted dumbbells, a barbell, a slide disc (or paper plate) and a medium tension stretch band. Focus and concentrate on each rep to bring your muscles to complete exhaustion.
It will take a few attempts to find that perfectly challenging weight for each body part. Once that "perfect" weight no longer pushes you like it did, increase your weight load. If you're new to this style of weight training, modify with lighter weights for the first few workouts.