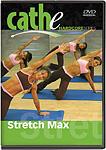 Hardcore Series – Stretch Max – Routine #1 Total Body Sculpting Fitness Video Download $4.97
You are purchasing a digital download, not a physical DVD.
Length: 23 Minutes
File Size: 318 MB
Description:
Stretch Max consists of three 20 minute stretching segments.  This video is the  1st stretch routine from Stretch Max and no equipment except a mat is required. The stretches you will see are a hybrid of basic, athletic-based, yoga-based, and gymnastic-based. Feel free to do any or all of the segments as often as you like. For best results and to enhance your flexibility, it is recommended that you do at least one of the segments 3 times per week. Also note that you should be completely warmed up before participating in the segments. I personally like to stretch after a minimum of a 20 minute cardio. That is when I find my muscles completely pliable and open to elasticity gains. The overall atmosphere on the workouts is calm and peaceful with very little talking once in the stretch. The other two Stretch Max segments are available separately.
Music:
Provided by Music Flex.
Equipment Needed:
Only a mat is needed for this workout