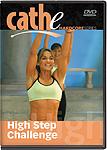 Hardcore Series – High Step Challenge Total Body Sculpting Fitness Video Download $11.97
You are purchasing a digital download, not a physical DVD.
Length: 69 Minutes
File Size: 961 MB
Description:
High Step Challenge is approximately 68 minutes long and full of endless energy. The program is designed to increase your muscle endurance, enhance your aerobic capacity, and put your physical stamina to the test. Get ready to huff and puff!!!
Equipment Needed:
You will need a high step, an adjustable barbell, various weighted dumbbells, and a medium tension resistance band to do this workout.
Tags: High Step Challenge