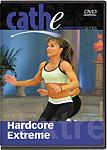 Hardcore Series – Hardcore Extreme Hi/Lo Intervals Exercise Video Download $8.97
You are purchasing a digital download, not a physical DVD.
Length: 73 Minutes
File Size: 1013 MB
Description:
Hardcore Extreme Hi/Lo Intervals combines high impact and low impact intervals and is a compilation of  segments from Lowmax, Imax and Kick Max. The other  two Hardcore Extreme workouts are sold separately.
Equipment Needed:
A High Step, an Original Health Club Step, various weighted dumbbells, an adjustable barbell, and a medium 6ft tension resistance band.