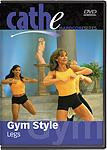 Hardcore Series – Gym Style Legs Exercise Video Download $11.97
You are purchasing a digital download, not a physical DVD.
Length: 68 Minutes
File Size: 942 MB
Description:
Gym Style: Legs is a comprehensive 60 plus minute workout that focuses on the use of compound and isolation exercises which target the legs, glutes, and buttock area. Both traditional and non-traditional exercises will help strengthen and firm even the most stubborn areas. This workout will use a wide variety of weight ranges and rep patterns in a controlled manner. Do this workout one to two times per week and in conjunction with our other Gym Style Workouts.
Equipment Needed:
High Step, Weighted Barbell, Various Weighted Dumbbells, 6ft Medium Tension Resistance Band, Stability Ball