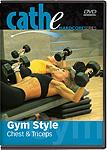 Hardcore Series – Gym Style Chest & Triceps Exercise Video Download $11.97
You are purchasing a digital download, not a physical DVD.
Length: 49 Minutes
File Size: 673 MB
Description:

Gym Style: Chest & Triceps is approximately 48 minutes in length and will provide you with a very intense and thorough workout. You will start your chest workout with drop sets of push ups to get a TOTAL pump in your chest. There is a slight rest between every set of push ups. Be sure to use whatever modification necessary if standard push ups do not suit you (ie: do them on your knees, or use push up handle bars. etc). After that you will go on to standard, yet tried and true, exercises with a heavy weight and controlled rep speed (mostly a 2/2 count) with moderate rests between sets. We all agreed that at the end of the chest workout, our pec's were pumped and on fire. Triceps will leave you equally pumped and challenged. Especially with the inclusion of the band bonus burns, yowsa!
Equipment Needed:
You will need a full sized step (preferably with 3 risers under each side), an adjustable barbell, various weighted dumbbells, and a medium 6ft tension resistance band to do this workout.