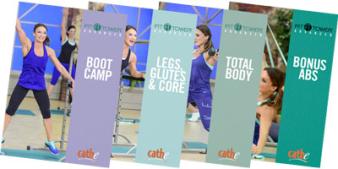 Fit Tower Advanced 3 Workout Discount Bundle $59.91
You are purchasing a digital download, not a physical DVD.
All three of these new workouts will be geared towards the advanced exerciser and will take the Fit Tower™ to a whole new level (many different levels actually!). These new workouts will take you through unique and exciting exercises that utilize the many different height adjustments of the Fit Tower. Get ready to lift, lower, strengthen, lengthen and burn some serious calories in the process!
About the Fit Tower Advanced 3 Workout Series
Boot Camp
This fast-paced, high-energy workout will work each and every part of your body while keeping the cardio factor up and the sweat levels high! You will be breathing heavy and burning as you move from exercise to exercise both on and off the tower. Time to get moving!
Legs, Glutes & Core
This lower body core fusion workout focuses on using methods of Pilates, ballet, yoga and barre to shape and firm all areas of the hips, thighs, glutes and core. We will be using the Fit Tower for alignment and stability as we lengthen our muscles and strengthen our centers. Don't let this workout fool you—you will be feeling the sting for sure!
Total Body
This workout is all about building and shaping beautiful, lean and strong muscle! We will be utilizing the tower complete with barbell clips as well as resistance bands to increase intensity in this workout. Get out your steps and your barbells and prepare yourself to hit each muscle group with focus and determination!
Free Online Users Guide
To get the most out of your workouts and to reach your fitness goals, visit cathe.com/fta and download the free Fit Tower Advanced User's Guide, which includes a Quick Start Guide. It also includes workout cards, a list of equipment you will need for each workout, and numerous Fit Tower Advanced workout rotations you can follow for 30 or 90 days.
The Fit Tower Advanced Series Also Includes This Bonus Workout
Bonus Abs