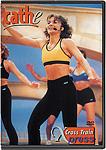 Cross Train Xpress – Power Circuit Exercise Video Download $6.97
You are purchasing a digital download, not a physical DVD.
Length: 63 Minutes
File Size: 866 MB
Description:
"Power Circuit" is from our Cross Train Xpress workouts and consists of a moving warm up followed by 28 minutes of power packed cardio. This cardio segment starts with a brief amount of low impact and high impact floor aerobics, and concludes with intense power circuit drills. These drills consist of three step circuits which incorporate leg work with a barbell, and three kickbox circuits which incorporate leg work with hand weights. After the circuits and a brief cool down period are completed, you will work your upper and lower BACK with exercises that use both a barbell and dumbbells. You'll also work your abdominals with crunches as well as some core strengthening exercises before you conclude with a relaxing stretch.
Power Circuit Format:
hi/lo warm – up 7 min, standing leg work 30 min, floor leg work 18 min, abs 7 min and stretch 3min.) min., stretch 2 min.
Equipment Needed:
a High Step, long step, 4′ to 5′ barbell and various dumbbells.