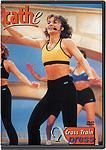 Cross Train Xpress – Leaner Legs Exercise Video Download Exercise Video Download $6.97
You are purchasing a digital download, not a physical DVD.
Length: 50 Minutes
File Size: 828 MB
Description:
"Leaner Legs" is from our Cross Train Xpress workouts is an extensive lower body workout which focuses on all of the muscles of the legs and buttocks. Through the use of hi reps and medium to heavy weight, you will engage in a medley of stylized rep variations to completely challenge all areas of the lower leg. This workout concludes with abdominal exercises and a soothing stretch.
Leaner Legs Format:
3 minute stationary warm up,  33 minutes ALL LEG exercises,  9 minutes of ABS, stretch 4 minutes.
Equipment:
a High Step, long step, 4′ to 5′ barbell and various dumbbells.