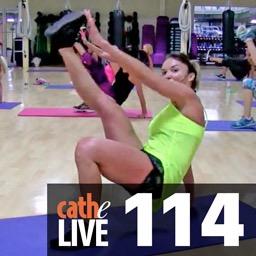 114 Cross Fire Quick Fix Plus Core $9.97
You are purchasing a digital download, not a physical DVD.
Get ready to get SUPER sweaty! This Cross Fire "quicky" will leave you feeling finished! Cardio blast after cardio blast with brief periods of recovery. Finish off with Quick Fix Core to seal the deal. Eat your wheaties….heeee he he he heeee!
Fire walker loop; A fitness mat
34 minutes
*Most Cathe Live download files are between 1 and 3 gigabytes each. Make sure you have enough room on your storage device. **Cathe Live downloads don't contain chapters or premixes. All sales are final.