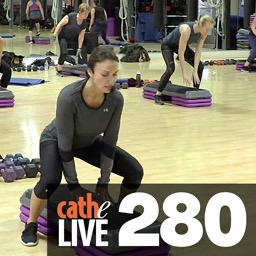 Burn It Bootcamp $9.97
You are purchasing a digital download, not a physical DVD.
Get ready to burn it round after round (6 total rounds) with this multi-exercise Bootcamp workout. A one-minute step cardio blast will open each round before moving on to a few weight exercises. A floor modification will be shown for all the one minute step blasts (remember you can do anything for a minute). It's time to burn it!
Full Sized Step to your Desired Height; 5, 8, 10, 12 & 15 lb. Handweights; Fitness Mat
45 minutes
*Most Cathe Live download files are between 1 and 3 gigabytes each. Make sure you have enough room on your storage device. **Cathe Live downloads don't contain chapters or premixes. All sales are final.