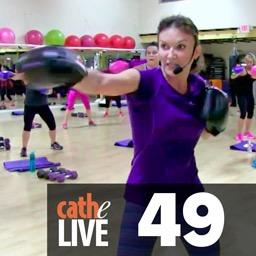 049 Boxing with Leg Blasts $9.97
You are purchasing a digital download, not a physical DVD.
First you'll start class gloved up for cardio based shadow boxing combos (no bag work). Then we'll switch gears and do plyo hiit drills mixed with moderate weighted leg work. Get ready to WORK WORK and SWEAT SWEAT!!!
Boxing Gloves (optional but preferred for additional energy & true to form output); A set of 12 and/or 15 pound hand weights.
58 minutes
*Most Cathe Live download files are between 1 and 3 gigabytes each. Make sure you have enough room on your storage device. **Cathe Live downloads don't contain chapters or premixes. All sales are final.