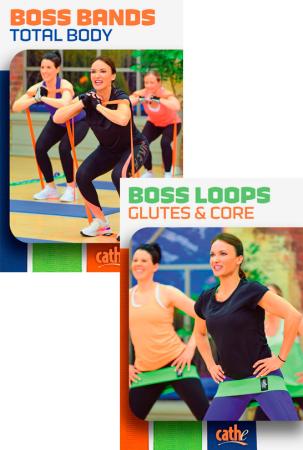 Boss Bands: Total Body + Boss Loops: Glutes & Core Bundle $39.94
You are purchasing a digital download, not a physical DVD.
The Boss Workout Bundle contains two workouts:
Boss Bands: Total Body
Time to put down your weights and grab your Boss Bands! This Cathe Friedrich low impact total body workout is a whole new challenge for your muscles and your mind! We all know that weights are great and they will always be a staple in our fitness lifestyle, but a well-rounded strength and endurance routine requires us to mix things up to challenge our muscles in different ways. The Cathe fabric Boss Bands will call on your muscles to perform in new ways from head to toe through a variety of compound movements and resistance variations. Great for at home or on the go, these Boss Bands will add a whole new dimension to your fitness routine!
Boss Bands Total Body Details:
Warm Up – 10:30
Main Program – 46:39
Total – 57:09
Boss Loops Glutes & Core
Are you ready to up your glutes game?! This intense low impact workout using Cathe's fabric Boss Loops will attack those legs, glutes, and core from all angles with challenging standing and floorwork exercises and some sweaty cardio pushes sprinkled in! Boss Loops are also great to grab on the go when you want a solid lower body workout while traveling. Don't underestimate the power of this fabric resistance! Your lower body and core will surely be talking to you when you're done!
Boss Loops Glutes & Core Details:
Warm Up – 4:05
Main Program – 47:21
Total – 51:26
Your FREE User's Guide can be downloaded by clicking here.