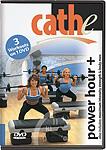 Body Max Workout Video Download $7.97
You are purchasing a digital download, not a physical DVD.
Length: 93 Minutes
File Size: 1250 MB
Description:
BodyMax is a completely different type of workout with the emphasis on aerobics and endurance. A step, barbell and various dumbbells are used in this workout.
This cross-training workout begins with 24 minutes of simple but intense step aerobics.
The circuit section in the middle of the workout is approximately 20 min in length and will provide you with a "shock your metabolism" effect since it consists of 5 cycles – each one moving quickly from high intensity step – to plyo step – to a very brief recovery and immediately into leg work with weights.)
The third section is approx. 20 min. in length and provides an all-out-non stop- upper body-weight workout that is similar in style to "Maximum Intensity Strength", however, the focus is on endurance and the rest periods are shorter. And finally, if you have survived this far, Cathe will take you through a 7 min. killer ab routine.
The workout concludes with a relaxing stretch and features beautiful new age music which seems to encourage the  release of any and all tension in the body/mind.
Body Max is a cross training workout within itself. We suggest you use this on a day that you want to target and condition every major muscle in your body but also want to get an intense cardio workout.
Body Max Format:
Warm-up 8 min., step aerobics 24 mins., power circuit intervals 19 min., cool down 2 mins., upper-body muscle conditioning 34 minutes., stretch 4 mins.
Equipment Needed:
This video requires a step, 4′ to 5′ barbell and various dumbbells.