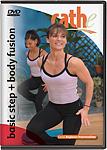 Body Fusion Workout Video Download $6.97
You are purchasing a digital download, not a physical DVD.
Length: 51 Minutes
File Size: 706 MB
Description:
Body Fusion is approximately a 50 minute workout which is formatted as follows: Warm-up, Step combo #1, Weight segment #1, Step Combo #2, Weight Segment #2, Step Combo #3, Weight Segment #3, Stretch. After the warm-up you will go into your first step aerobic segment which features moves from videos past taught with a longer breakdown and more repetition than the other two upcoming step combos since you are just freshly out of the warm up. This segment is about 10 minutes long. Now your first weight segment will do squats with overhead presses and lunges with side and front lateral raises for approximately 5 minutes (light breaks in between). Step combo two is a little more complex than one but still on the level of intermediate. It again is about 10 minutes long and features moves from other videos. Weight segment two features lunges off the back of the step and then later bicep curls standing on the floor. The biceps curls end with a little balance option of doing them while standing on one leg. Step Combo #3, totaling about 8 minutes, is the same level of complexity as two but has more intensity added. Weight segment three includes deadrows and deadlifts and then moves onto dips and push ups before completing with a stretch.
Format:
warm-up 6min,  step combo one 8 min., weight segment one 4 min., step combo two 10 min., weight segment two 4 min., step combo three 9 min., weight segment three 6 min., Stretch 3 min., Total = 50 min.
Equipment Needed:
a Step, light dumbbells, and tubing