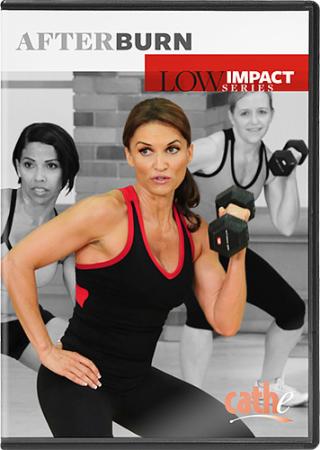 After Burn Workout Download $19.97
You are purchasing a digital download, not a physical DVD.
Length: 54 minutes
File Size:
Description:
AfterBurn. Just the name alone says it all so get ready to turn up the heat and send your metabolism, into overdrive with this advanced low impact workout!
In AfterBurn youll use your own bodyweight and dumbbells, for metabolic intervals that alternate with low impact high intensity cardio for the ultimate fat burning workout. AfterBurn is unlike any other low impact workout youve seen. It utilizes both low impact HiiT cardio and metabolic weight training in the same workout, to deliver maximum results in the least amount of time!
The main advantage of this type of a workout is the increase in your bodys metabolism continues on long after your exercise session has ended, not just during it. This effect is known as the after burn and hence the name for this amazing fat blasting workout.
The total time of AfterBurn is 54 min ( warm-up 4:45, HiiT 44:11, Cool Down Stretch 4:55)