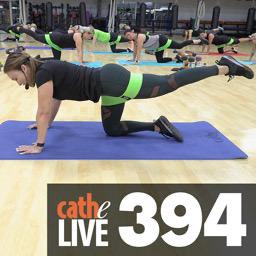 394 Strong Glutes and Thighs $9.97
You are purchasing a digital download, not a physical DVD.
Get ready to squat, lunge and deadlift your way through a series of standing exercise variations that add up to a nice bite by the end. Then we'll keep the "bite" going as we bring it to the mat for some more intensity! 10-15 lb.
Dumbells; Medium Tension Fabric Loop; Fitness Mat; 1" or 2" Weight Plate (optional)
57 Minutes
Most Cathe Live download files are between 1 and 3 gigabytes each. Make sure you have enough room on your storage device. **Cathe Live downloads don't contain chapters or premixes. All sales are final