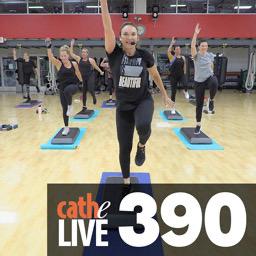 390 Cardio Metabolic Sweat $9.97
You are purchasing a digital download, not a physical DVD.
This intense cardio sweatfest starts with a steady cardio build that graduates in intensity before switching over to metabolic LIGHT weight training (to keep the cardio vibe going) and then finishes off with more solid cardio drills using the step platform (no risers). The moves are all familiar so that you can dive right in and kick some asterisks.
Sets of 5 & 8 lb. Dumbells; Step Platform (Risers Optional); Exercise Mat (Optional)
Most Cathe Live download files are between 1 and 3 gigabytes each. Make sure you have enough room on your storage device. **Cathe Live downloads don't contain chapters or premixes. All sales are final.
45 Minutes