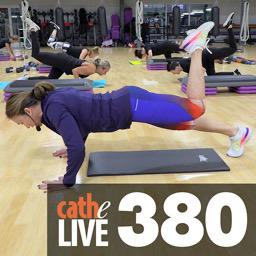 380 Cardio Upper Core Circuit $9.97
You are purchasing a digital download, not a physical DVD.
Get ready to get pumped and sweaty with intense rounds of cardio on the step followed by a double shot of upper body weights and finishing with a core exercise in each round. There's no time for downtime, so grab your equipment and let's get it!
Full Sized Step with 2 Risers per Side; Various Weighted Dumbbells (5-15 lbs.); Fitness Mat and/or Mini Step Mat
Most Cathe Live download files are between 1 and 3 gigabytes each. Make sure you have enough room on your storage device. **Cathe Live downloads don't contain chapters or premixes. All sales are final.
42 Minutes