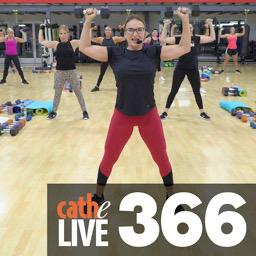 366 PHA: Supersets 2 – No Repeats $9.97
You are purchasing a digital download, not a physical DVD.
This total body time efficient workout combines the concept of PHA (Peripheral Heart Action training – alternating upper and lower body exercises) with SUPERSETS (doing two upper body and two lower body back to back). This combination takes the cardio and muscle endurance benefits to a whole new level. Let's do this!
Sets of Light to Heavy Dumbbells (5-15 lbs.); Fitness Mat
45 Minutes
Most Cathe Live download files are between 1 and 3 gigabytes each. Make sure you have enough room on your storage device. **Cathe Live downloads don't contain chapters or premixes. All sales are final.