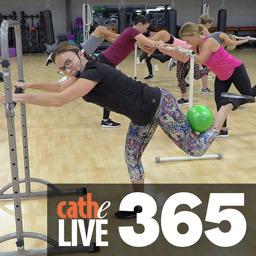 365 Total Body Barre: Intermediate/Advanced $9.97
You are purchasing a digital download, not a physical DVD.
This total body intermediate-to-advanced level workout is designed to improve overall muscle endurance, develop core strength and improve posture and flexibility through the use of barre inspired high rep,
light weight movements. Sets of Light and Moderate Dumbbells (5 & 8 lbs.); Fit Tower (or Chair); Mini Yoga Ball (optional); Fitness Mat
58 Minutes
Most Cathe Live download files are between 1 and 3 gigabytes each. Make sure you have enough room on your storage device. **Cathe Live downloads don't contain chapters or premixes. All sales are final.