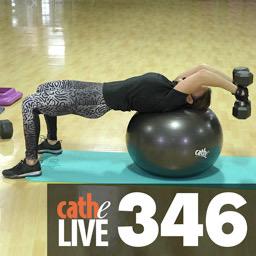 346 Lift it, Split it Upper Body: Back and Biceps $9.97
You are purchasing a digital download, not a physical DVD.
In this focused back and bicep workout we'll do slow controlled reps, 12 per set. We'll start out with a thorough back workout hitting your back muscles from all angles and then make our way to biceps, again hitting the muscles from all angles. This workout will be the first in a series of three Lift it, Split it Upper Body routines! Are you ready?! It's time to pull your weight! Let's Go!
Barbell (35-50 lbs.); Various Weighted Dumbbells (10-30 lbs.); Stability Ball; Light and Medium Resistance Tube; Fitness Mat; Lifting Gloves
42 Minutes
Most Cathe Live download files are between 1 and 3 gigabytes each. Make sure you have enough room on your storage device. **Cathe Live downloads don't contain chapters or premixes. All sales are final.