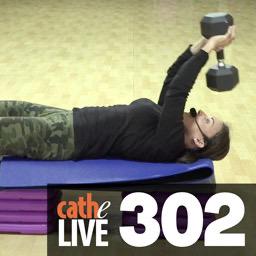 302 Burn Sets Live: Back, Chest and Shoulders $9.97
You are purchasing a digital download, not a physical DVD.
Get ready to pick up some heavier weights and slow down the reps. We'll be working in a 10 to 12 rep range for each exercise. In this workout you'll do nine rounds of Back, Chest and Shoulder exercises (in that order) with a different exercise (or slightly different exercise) for each body part in each round. As always, it will take some guess work to get the perfect weight to make this the "perfect" workout. Have back up weights and a notebook handy to jot down helpful notes regarding your weight selection. I'll be working hard (and guessing my weight) right along with you. Let's do this!
Full-Sized Step with 3-4 Risers Under Each Side; Fitness Mat; Various Weighted Dumbbells from 5 lbs. and Up
Most Cathe Live download files are between 1 and 3 gigabytes each. Make sure you have enough room on your storage device. **Cathe Live downloads don't contain chapters or premixes. All sales are final.
48 Minutes