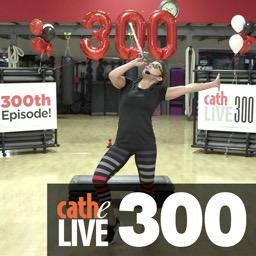 #300 Metabolic 300 $9.97
You are purchasing a digital download, not a physical DVD.
Come join me for the celebration of our 300th Cathe Live episode. This pandemic certainly has made party planning difficult and therefore I will once again be flying solo in the house. But don't be a party pooper and come join my party! We'll be doing 30 exercises for 10 reps each – 300 hundred reps for our 300th episode.
Full Sized Step with 3 Risers per Side; Various Weighted Dumbbells; Fitness Mat
Most Cathe Live download files are between 1 and 3 gigabytes each. Make sure you have enough room on your storage device. **Cathe Live downloads don't contain chapters or premixes. All sales are final.
49 Minutes