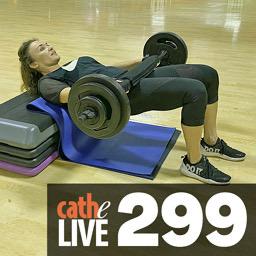 299 PHA: Barbell $9.97
You are purchasing a digital download, not a physical DVD.
As with all PHA (peripheral heart action) workouts, we will move quickly, alternating lower body exercises with upper body exercises to keep the heart pumping and the muscles firing for a total body, time efficient workout. This workout uses a weighted barbell for the entire routine, but dumbbells can be substituted if preferred.
Barbell 25-40 lbs. Range; Full-Sized Step with 3 Risers on Each Side; Fitness Mat; Optional: Barbell Pad and Lifting Gloves
Most Cathe Live download files are between 1 and 3 gigabytes each. Make sure you have enough room on your storage device. **Cathe Live downloads don't contain chapters or premixes. All sales are final.
58 Minutes